The Bar R Ranch–Dedicated to your success in equine-related events.  Saddle up!
Services Include:
Also Featuring:
Horse.com — Home of Country Supply –Where it's All About Your Horse.  Offering Apparel to Grooming and  Halters to Wormers.
Statelinetack.com — Western Saddles, Supplements, Apparel, Foot Wear and More.
A Tribute –From a Happy Client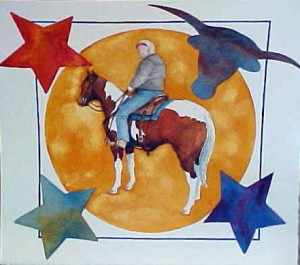 Several years ago I had the opportunity of taking horseback riding lessons from Ronda Skinner at the Bar R Ranch, and also assisting her while she started and trained five colts. I've had horses my entire life, and Ronda is, by far, the best riding instructor, trainer, and all-around horse handler I've ever known.  As an instructor, she is very patient and kind, and always willing to go through a maneuver one more time to get it right.  As a trainer, she is firm and no-nonsense, yet gentle and persistent.  I occasionally worked the roping chute while Ronda roped, and she has a very high catch ratio!  I also worked the chute while Ronda gave instruction to her students, and it was fun to watch the progress of the student under her instruction.  Ronda is in every way, a professional!
Judy Gordon
Idaho Falls, Idaho
January 2012
The Bar R Ranch is a top notch training facility, with a well-kept, professional atmosphere.  There is a large outdoor arena, groomed regularly with the perfect footing and the indoor arena is spacious, clean, and modern.
My husband and I, as well as our son and daughter-in-law have taken riding lessons from Ronda Skinner and find her to be well spoken and knowledgable, putting us at ease in our lessons, in an excellent learning environment.  Two of  our horses have benefited from Ronda's sound training program.  Both horses were returned to us respectful, well trained and ready to go.  Ronda asked us what our goals were for these horses, before the training began and she listened to comments, concerns and challenges.  When these horses were finished with the training program, our goals had been met and even beyond.
We use our horses for Search and Rescue and they need to be very quiet and responsive.  Both she and the Bar R Ranch are highly recommended by both my husband and me as a 5- star trainer and facility.
Bryan and Sandra Hult
Idaho Falls, ID 83402
208-339-3027
Learning to ride better and starting to rope is quite challenging and takes a lot of precise practice.  Ronda is very patient with me, and continues the lesson until I completely understand what she is asking and sees that I am performing correctly.
All of the Bar R Ranch's horses are so talented and broke they are a joy to ride. The facility is always clean and there are many little pets there to greet and welcome you.
I have trained under a handful of different trainers, including English and Western, and Ronda has taught me more in just a short amount of time than any of them. She really knows her stuff!!
I plan on boarding my horse at Bar R Ranch and I know that my mare will be in great care. I won't have to worry about a thing! Ronda is great in all the areas you need: Training, Instructing, Animal Care, and just an honest and great person.
Michele Long
Rexburg, Idaho
Ronda is a very good instructor.  She does a great job breaking down her instructions into basic elements that are presented in a step-by-step fashion.  She is also able to show her students what is expected by demonstrating the skills.  This helps students learn through audio and visual instruction.
Ronda is very safety-conscious and her facility is horse and rider-friendly.  I would recommend Ronda as an instructor to any level or rider.
Staci O'Connell
January 8, 2012
When I first started looking for a trainer for my horse, I was looking for someone who used a firm but gentle hand. I believe that a horse's whole outlook is determined by that initial trainer that handles them and introduces them to a rider.  In Ronda, I discovered that trainer I was looking for.  She has knowledge and patience beyond what I could ever dream of knowing or having.  I am the one that really tested the patience end when she gave me lessons on my horse and I really admired her for that.  I have been an individual that has ridden horses since before I could walk.  However, after just a few lessons with Ronda, I discovered that riding a horse all your life doesn't mean you are truly riding the horse and being in tune with the horse.  She really helped me to gain that awareness.  I found that if Ronda felt you were screwing up, she told you.  I didn't want a trainer that sugar-coated it; I wanted one that said how it was and gave her opinion when asked.
I really appreciated Ronda's skills when I observed her horses and their attitudes.  All her horses, when she worked with them, were collected and not freaking out under her training.  There were always the wild moments, but she handled all calmly with the horse gaining confidence displayed by it's settling behavior.
I wasn't looking for a horse that was trained to blow out of one place or be a handful just to sit on.  I wanted one that understood that being calm and collected is what is wanted.
The atmosphere of her arenas, both inside and outside, were professional, yet casual.  It was an atmosphere I felt like I could learn and feel safe while learning or observing.  I am definitely not what a person that would be considered an advanced rider, but I never felt inferior, just calmly instructed.
I have referred Ronda/Bar R Ranch to several individuals for both personal riding lessons plus someone to see about starting their young horses.  I would be proud to refer anyone to her and have felt my experience plus that of my horse was well worth the time and effort.
Denice Morgan
January 2012
I met Ronda Skinner as a result of "putting the cart before the horse" as the old saying goes!
My husband and I own 2 quarter horses.  Friends had given me a few pointers regarding riding – and off I went on several trail rides – unfortunately, because I had not had any formal riding lessons, I had a serious accident that put me in the hospital followed by several months of recuperation.
I realized if I was ever going to ride again I needed to take some riding lessons and hopefully regain confidence to get back on my horse. That's when I found Ronda — and I am thankful every day that I hooked up with her.
Ronda is an excellent trainer/instructor — both for the rider and the horse.  She is very talented and, as an instructor, she has the ability to communicate with her student so the lesson is very easy to understand.  She is patient, and when you are comfortable, pushes you to the next level in your training.  In my case, Ronda was very understanding of my needs and fears; she began instructing me with the basics — feeling comfortable around horses, proper tacking, etc.,  and progressing at my pace in learning to ride — she worked with me within my comfort level.
I would highly recommend Ronda to anyone wanting to learn to ride "the right way"!
Sandy Hart
Idaho Falls, ID
January 2012